Ian Paisley retires from Free Presbyterian ministry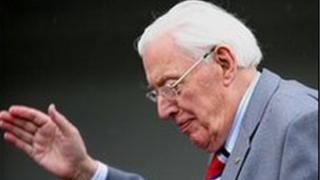 The Reverend Ian Paisley is to step down from ministry in the church he helped establish 60 years ago.
The 85-year-old former MP, now Lord Bannside, broke the news to his congregation in the Martyrs Memorial Free Presbyterian Church in Belfast.
He said he would now take time to write his memoirs.
The former assembly first minister set up the Free Presbyterian Church in 1951 after a split with the main Presbyterian Church.
Mr Paisley, who retired as MP for North Antrim after 40 years ahead of the 2010 general election, was moderator of the church he founded for most of its history.
A powerful evangelical orator, he stepped down from the role three years ago but continued to preach in Martyrs Memorial on Belfast's Ravenhill Road.
He told his congregation that he would be writing an autobiography.
"I will be telling some stories that will make some people laugh and others blush," he said.
Mr Paisley is due to oversee his final service in the church next month.