Folks on the Hill impersonator Sean Crummey dies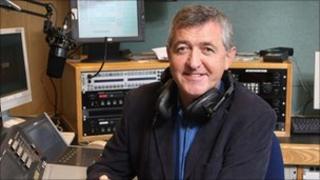 The political satirist Sean Crummey has died.
He was best known for impersonating the voices of Northern Ireland's politicians on the comedy sketch show The Folks On The Hill on Radio Ulster.
The programme celebrated its 10th anniversary this year.
The Folks On The Hill began in March 2001 with sketches involving local and international politicians, as well as TV and sports celebrities.
Mr Crummey, who was 53, told BBC News Online last month that his personal favourites in the early days, included David Ervine, Pope John Paul II and Bill McLaren.
He described impersonating the former American president George W Bush as "comedy gold".
Mr Crummey said he had met quite a few of Northern Ireland's politicians, and said most had been quite complimentary about the show.
He said some had not featured because their voices were too tricky to nail down.
Peter Johnston, director of BBC Northern Ireland, said Mr Crummey had a "unique talent combined with a mischievous insight into political life in Northern Ireland and beyond".
He added that the satirist and Folks On The Hill had become an institution in Northern Ireland over its 10-year run on radio and its time on television.
"In addition, he was a true a gentleman and always a pleasure to deal with," Mr Johnston said.
"Our thoughts are with Sean's family at this very sad time."
Fergus Keeling, head of radio at BBC Northern Ireland, said Mr Crummey "was one of the most gently charming men I have ever met".
"His biting satirical wit and keen observational talents were underpinned by a deep sense of humility," he said.
"During his recent illness I believe he missed the characters he parodied which is why he came back to do the most recent series of The Folks On The Hill and he and I talked of more series to come.
"We'll all miss him dreadfully."