Sammy Wilson says executive remains committed to improving A5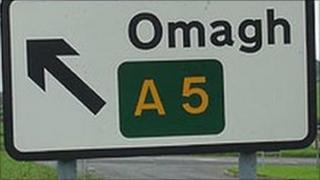 Finance Minister Sammy Wilson has said the future of the proposed upgrade to the A5 is still uncertain but the executive remains committed to improving the road.
The Irish government had initially agreed to provide £400m towards upgrading the A5 Londonderry to Aughnacloy road.
On Friday it said it could only afford to provide 50 million euros (£42m).
Mr Wilson said that money was still a long way off in reality.
Speaking on the Inside Politics programme, he said: "We have had a promise of £40m, we had a promise of £400m as well, so I think we've got to bear in mind that it was being reneged on in the past.
"It might be reneged on in the present, until the money is actually there we can't be certain what's going to happen.
"All we can say is the executive made the commitment on Thursday after the executive meeting that we believe that there needs to be an improvement in the roads infrastructure in the west of the province.
"When the money becomes available then it will be done."
Mr Wilson said the money from the Irish government would not be "on the table" until 2016/17 at the earliest.
"The executive has given a commitment that when the money becomes available we will do those parts of the road we can afford to do," he said.
Joint funding
"We will prioritise those parts of the road which most need redone but we know that the money is not going to become available from the south until 2016/17.
"It is an international project and it must be joint funded."
The total cost of the 55-mile upgrade - which would create a key cross-border business route linking Dublin to the north west - was to be £850m.
Mr Wilson said because the executive budget only ran until 2014-15 its contribution to the A5 would now be spent elsewhere.
"I think that after the initial furore there has been about the way some people feel there's been a betrayal on this obligation by the government in the Republic, we will get down to the business of looking at how we can spend the money," he said.
"I would rather see it spent, and spent effectively in Northern Ireland than we wrangle about what should have been and what ought to have been and then finish giving it back to George Osborne.
Earlier this week, the Irish Republic's Transport Minister Leo Varadkar said his government remained "politically committed to the A5".
He said he expected work to take place in the future, but £400m was "an enormous commitment and difficult to honour given what we're facing".