Family escapes flooding danger in Draperstown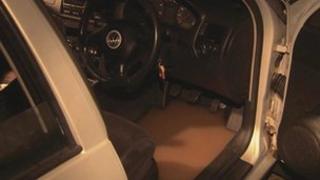 A mother and her two young children had a lucky escape on Friday night after their car got trapped on the Mulnavoo Road near Draperstown, County Londonderry.
The woman got out of the vehicle with her children at a ford near the River Moyola and made it to a footbridge.
Firefighters in life jackets then carried them to safety.
Heavy rain on Friday caused flooding on a number of roads in Northern Ireland making some impassable.
Mark Watson, District Commander of the Fire Service in Cookstown, said 18 firefighters were involved in the operation.
He described the situation they faced when they arrived.
"The mother had managed to get out of the car with the two young children and make it to the footbridge which was running alongside the ford, but she couldn't make it to safety from there," he said.
"So when fire crews arrived they were faced with a mother, a six-year-old and a 15-week-old child stuck on the bridge.
Precaution
"Firefighters wearing life jackets were able to carry the family to safety."
Mr Watson said the family were not injured as a result of the incident but were taken to hospital as a precaution.
Police officers and a police helicopter were also involved in the rescue operation.
Local Sinn Fein councillor Brian McGuigan said the road the family were on becomes a ford, crossing the river and said they were lucky not to have lost their lives.
"They were apparently, from the information that I have, using a sat nav which put them on that road," he said.
"They drove into the river or very near. They didn't actually drive into the middle of it because if they had it would have ended up with there being fatalities.
"Local people just don't use that road if there is any flooding or heavy rain. It is really only used during the summer."