Documentary marks anniversary of Aaron McCormick's death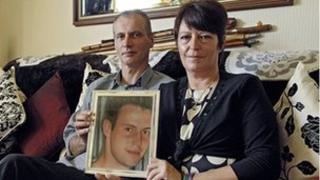 Ranger Aaron McCormick was killed in Afghanistan a year ago when he was only 22 years old.
A new BBC Northern Ireland documentary, Remembering Aaron, shown on Remembrance Sunday, marked the anniversary of his death.
It told how the private grief of a family for a son connects them with the grief of a town in remembrance of this young soldier and of those killed across different wars and generations.
Aaron, from Macosquin, County Londonderry, serving with First Battalion The Royal Irish Regiment, was killed in Helmand, on Remembrance Sunday, 2010.
In the 90-minute documentary, the soldier's parents, Margaret and Lesley, his girlfriend Becky, and his brother and sisters tell of their own intimate memories of Aaron.
They also recalled the last time they saw him alive, how they got news of his death and how they now live with his memory.
The documentary also focused on the public grief of an English town, Wootton Bassett, and how the people there reached out to the McCormick family and brought them together in their shared remembrance.
For more than four years, news bulletins have beamed images across the world of the repatriation of fallen soldiers through its main street and the dignified respect shown by the townspeople.
However, the images could not tell viewers that many of those faces in the crowd were also grieving for loved ones lost in war.
Director Henry Singer explained how the film came about.
Understanding
"I filmed the repatriation of Ranger Aaron McCormick back in November 2010," he said.
"After doing that, I realised I wanted to find out who Aaron actually was and to get to know his family to try to understand what they went through, and continue to go through.
"They are a remarkable family."
In Remembering Aaron, Mr Singer gave viewers the opportunity to get to know one of those repatriated to ensure that this particular soldier's story is told and not forgotten.
In doing so, that story - of a life, a family and friends - could be a reflection of the lives of all those other dead troops who passed through the town.
The documentary explored how the McCormick family's grief mirrors that felt by some of those who stand in respect on Wootton Bassett's main street and the connection between those who have lost loved ones in war.
While they may come from different generations, different wars in different parts of the world, their stories of grief and remembrance unite them.
Remembering Aaron is on BBC Two Northern Ireland on Remembrance Sunday, 13 November at 9pm.