Q&A: History of the 11-plus test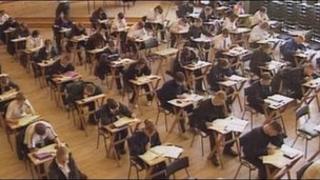 What was the 11-plus?
The 11-plus transfer test between primary and secondary school began in Northern Ireland in 1947.
For more than 60 years it was used to decide who qualified for a place at grammar school and who didn't.
Why was the 11-plus scrapped?
The Burns review of the education system, published in 2001, was set up by previous education minister Martin McGuinness.
During the consultation process, forms were sent to every household in Northern Ireland.
They were predominantly filled in by those who had children at grammar schools and the majority of responses were in favour of retaining academic selection.
However, Mr McGuinness said on the whole, the weight of opinion across all the responses was against selection, as long as an acceptable alternative was in place.
When was the final test?
The last tests were sat in November 2008.
What has replaced the 11-plus?
The Labour government, under direct rule, had planned to abolish academic selection altogether but a deal under the St Andrew's Agreement won it a reprieve.
It was then left it up to the local politicians to find a solution to what should replace the official 11-plus.
However, they cannot agree and so Northern Ireland is without a regulated test, although grammar schools are still permitted to use academic selection.
Association of Quality Education (AQE) and a group of Catholic grammar schools therefore drew up separate grammar school entrance tests.
Why are there two separate tests?
After grammar schools decided to set their own tests, they split into two camps running totally different exams.
The AQE is serving non-denominational grammars while the Post Primary Transfer Consortium (PPTC) is providing tests mainly for Catholic grammars, along with some integrated colleges and non-denominational schools.
The two not only differ on the format of the tests, but also presenting results and charging for the exams.