Case history of Belfast returns to family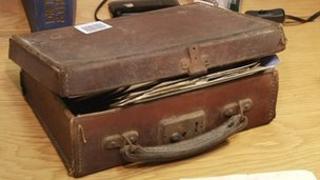 A small suitcase containing memorabilia spanning both world wars has been reunited with descendants of its rightful owner.
It was filled with items, postcards, letters, dance cards, news paper cuttings, war-time love letters and an anti-Hitler poem.
The case was found lying in a south Belfast back street and a member of the public handed it into the police. They contacted the BBC to launch a media appeal after they had exhausted their own lines of inquiry.
Superintendent Yvonne Davison said: "There was some really sentimental items including items given to solders during World War One, like the box Princess Mary gave to all soldiers and sailors for Christmas 1914, so we wanted to get that back to the rightful owners."
The case belonged to a Henry Campbell, who was a teenager at the outbreak of the Second World War and later worked for Belfast Corporation Transport as a tram inspector. He remarried after his first wife died and didn't have any children.
He did, however, have a half-sister called Agnes. They shared the same mother Jane, but had different fathers as Jane remarried after her first husband died. And Agnes had two children, Dennis and Joan, which would make them Henry's niece and nephew and closest surviving relatives.
The nephew, Dennis Waring, is delighted: "I knew he was in the air training corps, but i didn't know his circle of friends.
"There were letters in here from Palestine and people who were on training courses in England. The thing that amazes me is that where has it been for the last 50 - 60 years?"
Safe return
Henry's niece, Joan McCullough, was intrigued by the love letter: "I think it was a lady maybe trying to get him as a boyfriend. I don't know about that?
"But there is so many other ones it would just be interesting to get a chance to look though them all. It is just lovely because he was a very, very nice man."
Dennis agreed: "I have very fond memories of him and he was someone I would say never made one enemy."
Henry was around 80 when he died five years ago. He grew up in McMaster Street in east Belfast. All his family left there some 40 years ago in the Seventies.
But it's possible the suitcase lay hidden away there somewhere in the house for years, only to be discovered by burglars in a recent break in. It could be that they saw it only had sentimental value so decided to dump it.
Henry's family are just thankful the case has been solved and has landed in their lap. That small case can now be handed down to Henry's future generations.