O'Dowd claims grammar entrance exams are 'marketing device'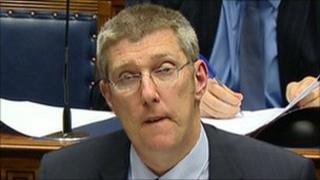 Grammar schools are using entrance exams as a marketing device, the Education Minister John O'Dowd has claimed.
His comments come three years after the abolition of the 11-plus examination.
Thousands of primary seven pupils will sit the first of up to five transfer tests on Saturday in the hope of securing a place at a grammar school.
The minister told the BBC's Good Morning Ulster programme there was no academic reason for having such tests.
Mr O'Dowd, whose predecessor Caitriona Ruane abolished the old-style 11-plus, said there was no educational basis for academic selection.
"If it is about academic excellence, and they are insisting they wish to promote academic excellence, why do the vast majority of grammar schools accept all grades and none," he said.
"In my opinion, in many cases what we have is a clever marketing device where... schools are competing for numbers for pupils because the money follows the pupils."
However, Mervyn Storey, DUP chairman of the Stormont education committee, said academic selection was still the best way to decide primary seven pupils' next move.
"I do believe that there are things that could be done to make the system better," he said.
"We need to have one regulated system, and it needs to be done in a way that ensures that the children are kept at the heart of this in terms of their outcome and their future benefits in relation to education."