Northern Ireland ministers seek clarity on A5 funding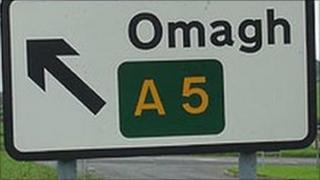 The Northern Ireland First Minister and Deputy First Minister have met the Irish Prime Minister in Dublin.
It follows the Irish government's decision to withdraw funding for a major road upgrade in Northern Ireland.
It was to have provided £400m towards the cost of the A5 Londonderry to Aughnacloy road upgrade.
Peter Robinson and Martin McGuinness had said they were meeting the taoiseach Enda Kenny "to achieve maximum clarity on this issue".
"The Executive remains committed to the project and we also note that the Irish government has committed itself to delivering it on a longer time scale," they said.
The total cost of the 55-mile (88km) upgrade - which would create a key cross-border business route linking Dublin to the north west - was to be £850m.
Earlier this week, the Irish Republic's Transport Minister Leo Varadkar said his government remained "politically committed to the A5".
He said he expected work to take place in the future, but £400m was "an enormous commitment and difficult to honour given what we're facing".
In May, the taoiseach publicly pledged to spend hundreds of millions of euros to build the stretch of motorway.
In September, the Republic's Department of Transport told the BBC it had already spent £19m on the project.