How will the Northern Ireland Executive spend £400m?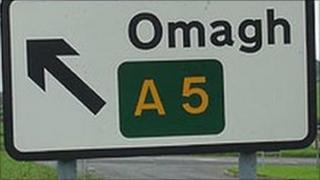 The Irish government has announced spending cuts of 750 million euros, and as a result funding for the Northern Ireland's A5 road upgrade has been postponed indefinitely.
It was to have provided £400m for the project which would have linked the north-west of the island and Dublin.
The Northern Ireland Executive was to have provided more than £400m to the project and it is still unclear where that money will go to.
Spending more than £400m at short notice isn't as easy as it might appear.
For one thing under Treasury rules this money can only be spent on what are known as capital projects - essentially that's physical infrastructure, things like roads, buildings or new equipment.
Time is also an important factor.
A lot of it has to be spent by the end of next year.
On Thursday, there were calls for the money to be spent elsewhere in the construction sector.
CBI Northern Ireland director Nigel Smyth said: "The construction sector is already under extreme pressure, the sector needs visibility on how the funds, now available to the Northern Ireland Executive, will be spent."
But the freed up money isn't likely to go on big infrastructure schemes like the new critical care unit at the Royal Victoria Hospital or the glamorous Titanic Signature building, because a long lead-in time is needed to plan such major projects.
Attractive
If the focus is to keep some of the money in road building, one scheme that might happen is the A2 - that's the main road between Belfast and Carrickfergus .
A lot of the preliminary work there has already been carried out, meaning it could happen in the right time frame
Other projects likely to benefit in the short term include maintenance budgets for hospitals, schools and roads as they are defined as capital and don't take as long to plan.
They will also be seen as attractive options because they would boost employment in local building firms - many of which have suffered in the downturn.
But any advantages from diverting the A5 money to other projects across Northern Ireland will be at the expense of those in the north-west who would have benefited from the new road.