Sunday World defames Gerry Kelly over 'chief of staff' article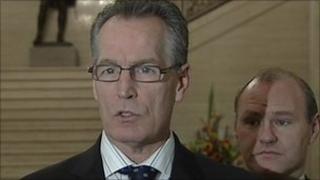 The Sunday World newspaper has apologised in court for accusing Sinn Fein MLA Gerry Kelly of being the IRA chief of staff.
Mr Kelly settled the High Court defamation case in Dublin on Thursday.
An apology from the paper was read out in court and Mr Kelly is believed to have been awarded an undisclosed sum of money.
The Sunday World also alleged Mr Kelly had been responsible for ending the IRA ceasefire in January 1996.
The paper apologised for the two articles, published in 1996, that also suggested Mr Kelly had a liaison with US diplomat Martha Pope for "ulterior motives".
The statement read: "The Sunday World acknowledges that both articles were wrong.
"The Sunday World accepts that Mr Kelly has played an important part in ending the violence in Northern Ireland and made a positive and significant contribution to the peace process.
"The Sunday World apologises to Gerry Kelly for the upset that the articles caused."
Speaking after the hearing, Mr Kelly said he felt the case could have been dealt with much sooner.
"This case could have been settled 15 years ago with a simple apology from the Sunday World but they consistently fought to keep the case from going to court," he said.
"I felt I should pursue the case in order to combat the view in some elements of the media that republicans, and particularly ex-prisoners are fair game and easy targets."