Sammy Wilson not worried by potential eurozone break-up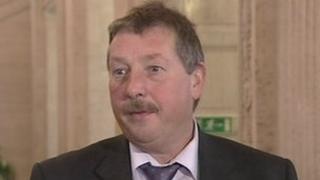 Talks about the possible break-up of the eurozone could have an impact on businesses in Northern Ireland with strong links to the Republic.
The Irish government has announced spending cuts of 750m euros, including funding for the A5 road upgrade, which is now postponed indefinitely.
However, NI Finance Minister Sammy Wilson said people should not be concerned about a eurozone break-up.
He described the eurozone as "an unviable exchange arrangement".
"I think that the attempts to keep what is an unviable exchange arrangement in place has actually depressed the economies of Europe and therefore depressed our markets," Mr Wilson said.
"What's happening at the minute is having a serious impact because of the uncertainty that is being created.
"It has to be recognised that the countries that are in the eurozone are so diverse that they can't possibly continue to operate as one economic entity.
"The sooner that is recognised the sooner we get back to some stability."
The European Union has drastically cut its growth forecast for the eurozone in 2012, from 1.8% down to just 0.5%.
The low growth makes it harder for Europe to escape its debt crisis, with Italy's position seen as unsustainable.
Italy raised 5bn euros from a new issue of bonds on Thursday, but had to pay an interest rate of 6.087% to borrow the money for one year.
In a speech in London, Prime Minister David Cameron said the UK had to safeguard its economy in such "dangerous times".
"It is not in our interest for the eurozone to break up, for countries to leave the eurozone, that obviously affects our banks, it affects our neighbours banks, transmission mechanisms that would go right across Europe that would damage our economy," he said.
"But we have to as I said in my speech, we have to keep the British economy safe, we have to take the British economy through this storm, safely to the other side, and that means preparing for all and any eventualities."