Curistan fails in legal challenge to administrator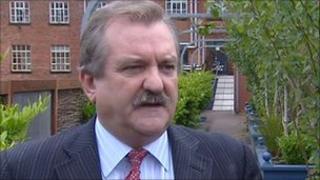 A Belfast businessman has failed in a legal bid to remove an administrator appointed to one of his companies over an alleged multi-million pound debt.
Peter Curistan sought a High Court ruling that it was unlawful of Anglo Irish Bank to make the appointment.
The administrator was asked to oversee the financial affairs of Sheridan Millennium Ltd, which ran part of the Odyssey entertainment complex.
Central to the case is a dispute over a financial guarantee allegedly now due.
A judge dismissed the legal points on which Mr Curistan challenged the validity of the move.
His counsel argued that the administrator was appointed in April because of an alleged £10.5m debt when, according to him, nothing was owed.
Wider dispute
Sheridan Millennium formerly owned a long-term lease on the Odyssey Pavilion area of bars and restaurants.
In the proceedings, which form part of a wider dispute with Anglo, it was set out that the administrator was appointed a day after Mr Curistan secured a High Court injunction which stopped Anglo from winding up another of his companies.
Lawyers for the businessman argued that judgment in that related case recognised there were genuine grounds for disputing the debt.
They also claimed in legal papers that the administration should be restrained because Anglo has placed Sheridan Millennium in administration for "an improper motive".
It was further contended that the true motive was "the stymieing" of the company's legal proceedings against the bank.
But Mr Justice McCloskey held that a floating charge underpinning the appointment of the administrator was enforceable.
'Not full or frank'
He also rejected further grounds based on a duty of inquiry, adequacy of reasons, and alleged improper purpose in the appointment.
The judge did find that the administrator's affidavits were not as full or frank as they could and should have been.
"The administrator sought to take shelter behind a defensive wall of legal professional privilege which, in my view, is of dubious foundation," he said.
"In short, I hold that, in swearing his two affidavits, the administrator, bound by a duty of candour to the court and as an officer of the court, should have disclosed more about the events immediately prior to and surrounding his appointment.
"However, I have already held that he was possessed of sufficient information to make the statutory statement of opinion."
After rejecting a further challenge based on an alleged breach of fiduciary duty, Mr Justice McCloskey ruled: "On the grounds and for the reasons elaborated above, I conclude that Sheridan has no entitlement to any of the eight forms of relief sought.
"Sheridan's application is dismissed accordingly."