Pat Finucane review team 'determined to expose truth'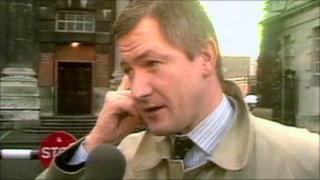 The lawyer appointed by the government to investigate the murder of Belfast solicitor Pat Finucane has said he is "determined to expose the truth".
Sir Desmond de Silva QC was appointed to review alleged collusion in the loyalist murder of Mr Finucane in 1989.
The Finucane family said they would not take part in the review as they wanted a full public inquiry.
Mr Finucane was killed by gunmen from the Ulster Defence Association in his north Belfast home.
Secretary of State Owen Paterson appointed Sir Desmond to conduct a review into the case using all relevant government papers.
But the Finucane family wanted an independent inquiry that they said they were promised by the previous government.
Sir Desmond plans to bring years of experience working in international conflict issues to the role.
"I am determined to expose the truth about this appalling murder," he said.
"I know from my work internationally over many years that it is only when the truth is fully exposed that communities can put the trauma of conflict behind them to secure a lasting peace.
"I encourage anyone who may be able to assist to come forward and contact the review at any stage to provide information or make representations.
"I have written to the Finucane family seeking a meeting with them at the earliest opportunity."