Mournes crash helicopter sensors not activated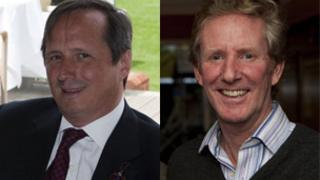 A report into a fatal helicopter crash in the Mournes last year has found that sensors to detect how close it was to the ground were not switched on.
The pilot and two passengers were killed when the helicopter crashed on Shanlieve mountain in October 2010.
The Air Accidents Investigation Branch report found that if the ground proximity warning system had been on, it would have triggered an alert.
It said a full inspection of the craft was not possible because of the damage.
The pilot, 63-year-old Anthony Smith, was a former RAF pilot.
His passengers were Charles Stisted, 47, a friend of Prince Charles and chief executive of the Guards Polo Club at Windsor, and Ian Wooldridge, 52, who was also a member of the club.
The helicopter was returning to England following a shooting expedition.