Stolen wedding album returned to Gilford couple after 17 years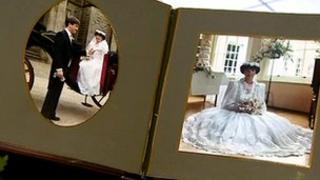 Nigel and Gillian Stewart had long given up hope of ever seeing their wedding photographs again.
Seventeen years ago, their caravan was stolen - with their wedding album inside.
They made media appeals for the photos to be returned, but had no success.
Then, on Tuesday afternoon, they got a delightful shock.
Someone had left the album in a plastic bag outside the front gates of the Stewarts' home.
"I thought I was seeing things," Gillian said.
"I was absolutely stunned. Speechless."
The most unexpected of returns is all the more special for the couple given that they recently celebrated their 25th wedding anniversary.
Gillian was pregnant with their son when the album disappeared along with the caravan.
On Tuesday, at the family home in Gilford, County Down, he saw the photos of his parents' big day for the first time.
"It's lovely for the children - they only know their dad with grey hair," Gillian joked.
She is extremely grateful to whoever gave the photographs back.
The question is, was it the same person who stole the caravan?
The family believe it's possible that someone's conscience was finally pricked.
But even if the mysterious visitor was the person who stole the caravan, Gillian said all was forgiven.
"You needn't be a bit afraid to come forward to me, because I bear no grudges," she added
"The past is the past, the future's the future.
"I would just love whoever it was to come forward, so I could thank them in person."