'Difficult' trading conditions at Belfast's Ikea store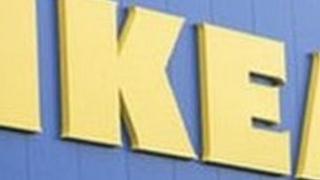 Ikea has revealed its Belfast store is experiencing "very difficult" trading conditions.
The details are in its response to the Stormont Executive's plan to increase business rates for large shops.
The furniture retailer said its Belfast store is experiencing "the most challenging period since the downturn in the economy".
It added that in the last fiscal year the NI market had been more difficult than the Irish Republic.
It said that since the Dublin Ikea opened in 2009, the Belfast store had been hit and that "the current trading pattern is well below what we would expect from a market of this size".
The firm does not expect any substantial improvements for a number of years.
Ikea is against the levy which will see increased rates on commercial premises with a rateable value of more than £500,000.
The money raised is aimed at giving rate relief to smaller businesses.
Ikea said that if the levy is introduced it will have a rates bill of £320,000 which "would place a huge burden on Ikea Belfast's already strained balance sheet".
The firm added that as Ikea managers operate their stores independently any increased costs must be met locally.
It warned that could mean redundancies as "a last resort".
Ikea is still owned by the Swedish Kamprad family who have been famously reticent about revealing details of the firm's financial performance.
It was not until October 2010 that they released profit figures which showed that it made 2.5bn euro in 2009.