Colleges criticise new visa laws for overseas students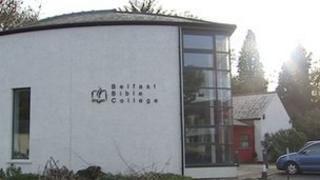 New laws on visas for overseas students who want to study in Northern Ireland have been criticised by private colleges.
One religious group said it will have to pay £20,000 to get clearance from a new quality check.
The Belfast Bible College has 60 overseas students and about half of them are from outside the European Union.
The college has accused the UK Borders Agency of moving the goalposts.
They will now need tier four visas.
Ian Dickson, the college principal, said: "A new educational oversight audit will cost our small college £20,000, yet large organisations like Queen's University will pay the same amount. We think that is unreasonable."
He also said there are delays over announcing what body will carry out the audit in Northern Ireland while other regions already know.
Another college said a tightening of the rules on visas means Northern Ireland is losing students to the rest of the UK.
Foyle Language School in Londonderry has 30 overseas students from countries such as Turkey, Saudi Arabia, China and India.
A spokeswoman said they were previously allowed 200 visas a year but that has been cut to 21. It has lost half of its long term students and had to make four of its eight teachers redundant.
The new rules mean that students learning English at private colleges in Northern Ireland will not be permitted to take part-time jobs while those at further education colleges or universities are allowed to work for 10 hours a week.
The college said that will deter students from registering. Mura Canning, the college admissions officer, said students will no longer be able to bring their dependents while they study in the UK.
"This is an industry bringing millions of pounds in fees and other spending by the students. We find that there are so many problems, students are deciding to study in other English-speaking countries such as Canada, the United States and Australia."
The colleges taking overseas students have had to register as "highly trusted" providers but the Northern Regional College has had its licence revoked. The Borders Agency said it, along with two private colleges, missed the deadline to apply.
The college said it was not told of the 9 October deadline and now may have to wait six months to reapply. It has very few overseas students at the moment but has linked up with the Baghdad Institute of Technology and hoped to recruit students who will need visas.
In a statement, the UK Border Agency said: "We have radically overhauled the visa system to tackle abuse of the student route while ensuring universities and colleges continue to attract the brightest students.
"It is essential that all sponsors undergo the educational oversight audit to make sure they have the correct accreditations and maintain the highest standards."