New emergency department signs for Craigavon Area Hospital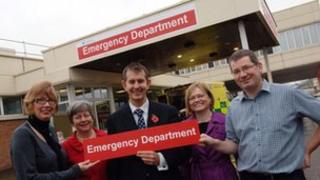 Health Minister Edwin Poots has unveiled new emergency department signs at Craigavon Area Hospital.
It is part of an initiative to raise awareness of appropriate use of the hospital's emergency service.
The new Accident & Emergency signs aim to highlight the fact that emergency departments must prioritise those who are seriously ill or injured and need immediate treatment.
An audit carried out in August to evaluate the appropriateness of attendances at the hospital's emergency department found that over a third (34.8%) of attendances did not require specialist care.
It found they could have been safely treated by their GP or other community services.
Mr Poots said it was important that everyone reflected on their use of emergency departments in hospitals.
"If you feel your case is an emergency, then you must attend the emergency department," he said.
"If it is not an emergency, then you should consider seeing your GP, your GP out of hours service, your pharmacist or attending the minor injuries clinic."
The initiative has been implemented by the Southern Health and Social Care Trust.