Child sex accused taught music to alleged victims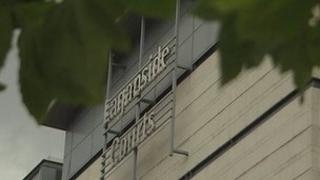 An 18-year-old man charged with child sex offences helped teach music to his alleged victims at a school in Belfast, a court heard.
Police claimed the accused, who cannot be identified, contacted one boy through Facebook and suggested a sexual act with another in a storeroom.
He is also alleged to have shown pornographic videos on his phone.
He was remanded in custody amid fears that releasing him to live at home could lead to public disorder.
The suspect has been charged with engaging in sexual activity in the presence of a child and causing a child, aged between 13 and 16, to engage in sexual activity.
He faces further counts of inciting a child to engage in a sexual act and causing a child to watch sexual activity.
The alleged offences were said to have occurred in the city on dates between September and November.
His mother and other relatives were present as he appeared before Belfast Magistrates' Court.
A detective constable who connected the accused to the alleged offences disclosed that he had carried out voluntary assistant duties at the school.
Disorder
"The charges relate to young boys who were students he was teaching music to," the officer said.
He added that police have still to speak to other children as part of their investigation.
It was claimed that the accused opened a new Facebook account under a false name after a teacher warned him about any inappropriate contact.
The detective confirmed police were concerned about possible disorder and the accused's own safety because of the location of a suggested bail address.
A defence solicitor suggested his client could be banned from using social media as part of release conditions.
He added: "I'm instructed that this young man largely does not go out of the house."
Despite failing to win bail, the lawyer secured an order to stop the 18-year-old being named due to fears it could lead to the identification of alleged victims.
District Judge Mervyn Bates remanded the accused in custody to appear again in two weeks time.