Flybe reports a rise in pre-tax profits this year to £14.3m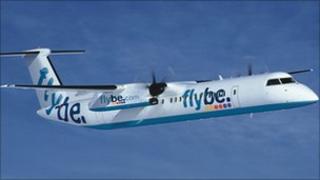 Northern Ireland's largest airline carrier has reported a pre-tax profit of £14.3m, which is up from £8.2m in the same period last year.
Flybe's half yearly accounts state that passenger numbers increased by 5% across the group and revenue per seat has also increased.
In October the company axed two routes from Belfast City Airport - Liverpool and Doncaster.
However, chief executive officer Jim French said the future of the company is safe in Northern Ireland.
He said those particular routes were inherited when Ryanair pulled out of the City Airport and were not profitable.
"We're a business at the end of the day," said Mr French.
"We tried to make it work, it didn't work, and we have to make decisions for the strength and the long-term security for all the routes out of Northern Ireland."
Mr French was more reluctant to be drawn on predictions for performance over the whole year.
The accounts show that future tickets sales are down for this winter.
From the beginning of November, Air Passenger Duty (APD) has been reduced for long-haul flights, which Flybe would like to see replicated on domestic flights.
"They've admitted that APD is a deterrent to air travel," added Mr French.
"So we would encourage the government to re-look at their policies regarding regional air travel."