Northern Ireland 'should do more over carbon emissions'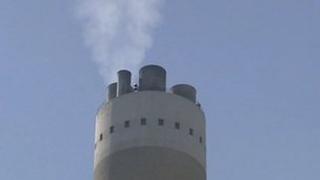 Northern Ireland should do more to tackle its carbon emissions using special legislation if necessary.
That is the advice of the Committee on Climate Change to Environment Minister Alex Attwood, who supports the introduction of statutory targets.
The committee reports that a reduction in emissions would be of economic benefit "in a world of tightening carbon constraints and rising carbon prices, and concerns over security of supply associated with imported fossil fuel".
Their comments follow a request from the minister for advice as to whether Northern Ireland should bring in its own climate change legislation, including legally binding emissions targets.
In their report, the committee told the minister that in the rest of the UK, legislation has been useful in underpinning low carbon programmes. Legal targets also provide certainty to businesses and policy makers, it said.
The committee advised: "Whether or not legislation is passed, it will be crucial to put in place a set of policies and incentives to drive emissions down.
"In particular, there is an important role for the public sector, which is responsible for a relatively high share of emissions, to provide leadership through improving energy efficiency and reducing transport emissions."
Former director of the Sustainable Development Commission in Northern Ireland, Jim Kitchen, said: "Like the committee, I'd welcome legislation, but I don't think we can wait for new laws - there's a pressing need for more leadership from government.
"There are plenty of targets but little indication of how they might be attained. Such action plans as do exist are full of vague intentions and faraway ambitions.
"There's a strong sense of fiddling while Northern Ireland burns."
Present UK legislation does not require Northern Ireland to bring in any specific targets or carbon budgets.
If restrictions were to be introduced then one of the key targets could be agriculture. Farms are seen as the largest source of emissions in Northern Ireland (around 29% of the 2009 total).
The committee advises that the sector could reduce emissions by around 30%, for example by avoiding excess applications of nitrogen fertiliser.
Although transport emissions have increased to 22% of the total, it's only because Northern Ireland is catching up with the rest of the UK, says the report. They claim it could be possible to reduce these emissions by a quarter.
The residential sector contributes 17% of emissions. Unlike the rest of the UK, there is a high reliance on oil as a fuel (68% of homes) and this adds to the CO2 problem. More insulation, energy efficiency and renewable heating could reduce home emissions by a third.
The committee also calls for more effort from the public sector, including government departments themselves.
"There are significant opportunities to reduce these emissions through procurement policy," says the report.
"There is also an important leadership role for the executive to play in demonstrating a commitment to reducing emissions through its own actions, for example travel and buildings emissions."
Other emissions, including industry and power, are already controlled by EU regulations and associated policies to encourage energy efficiency.
Environment Minister Alex Attwood who had sought the advice told the BBC: "My view is that we should have statutory climate change targets and that the targets should be rigorous and challenging.
"I believe that this can contribute to our economic recovery by supporting the transformation to a low carbon green economy, encouraging innovation while at the same time providing greater certainty for business.
"This is the way to go. This generation owes it to future generations to do so."
The real test is can Mr Attwood get his views accepted by the rest of his executive colleagues.