David Ford will resign to save devolution of justice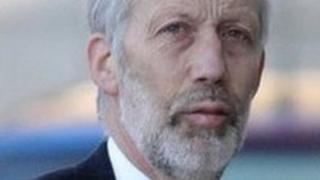 Justice Minister David Ford has offered to resign next year so the current compromise on his role at the assembly can continue.
The offer is made in an Alliance submission to a Stormont committee, obtained by the BBC.
Justice has been devolved to Stormont since April 2010, with David Ford elected by cross-community vote.
But he has said he will step down if it prevents the current deal expiring next May and the position being dissolved.
The deal hammered out during marathon talks last year was temporary and if a longer-term solution is not found it will expire.
Now, Mr Ford has said he wants the current situation to continue but has offered to stand down in case anyone assumes his party are motivated by self-interest.
The Alliance leader also said he is willing to face a motion of no confidence in the assembly to help elect a new minister if necessary.
The parties disagree on the way forward for the justice department.
Sinn Fein wants to see the post handed out in the same manner as all other portfolios, whilst both the DUP and Ulster Unionists want the number of departments reduced.
The UUP's Basil McCrea said Mr Ford's resignation offer was motivated by self-interest.
"In an act of brinkmanship the Alliance suggest that only they can satisfy a cross community nominee. This need not be the case," he said.