Massereene barracks gunman 'showed no remorse'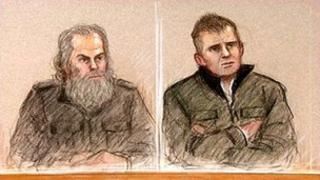 A terrorist involved in the Massereene barracks attack showed no remorse as he stood over a wounded soldier and shot him at close range, a court has heard.
Mark Fitzpatrick, a soldier wounded in the attack, was giving evidence at the trial of Colin Duffy, 43, from Lurgan, and Magherafelt man Brian Shivers, 46.
He said he watched from the footwell of a car as a masked man stood over Sapper Patrick Azimkar and "finished him off".
Sapper Azimkar, 21 was murdered along with Sapper Mark Quinsey, 23.
Mr Fitzpatrick has since been discharged from the Army as a result of the wounds he sustained in the Real IRA attack in March 2009.
'Cause damage'
"Whoever it was wanted to cause damage and they finished him off before firing in at me," he told Antrim Crown Court.
He added: "There was no remorse. He knew what he was doing, he just seemed to do it all quick."
He had taken refuge in a car belonging to a man who was delivering pizza to the base when the attack unfolded.
Colin Duffy and Brian Shivers deny two charges of murder as well as six charges of attempted murder and one of possession of guns and explosives.
The court later heard a statement from an Army medic indicating that Sapper Quinsey was also shot from close range in the attack.
Despite frantic efforts to save the lives of the sappers, both were declared dead shortly after the shootings.
Mr Fitzpatrick was one of three soldiers who survived the ambush.
The Royal Engineer sappers were only hours from flying to Afghanistan to begin a six-month tour of duty and were already dressed in desert fatigues.
'Constant fire'
Mr Fitzpatrick recalled the moment he and his comrades were fired on as they went to collect their pizzas.
He said he heard a noise and then someone saying "get down".
"As that happened Pat (Azimkar) fell on top of me, I hit the floor and crawled round the car, I looked up and saw a gunman in a balaclava shooting my friend," he added.
Mr Fitzpatrick sustained gunshot wounds to his hand and shoulder, with one bullet puncturing his lung.
The ex-sapper said he looked out through the window of the pizza delivery car he had crawled into and caught the eye of the gunman.
"When he saw me in the car he opened fire," he said.
"It was an automatic, probably about 10 to 15 seconds of constant fire."
Relatives of the murdered sappers were visibly upset in the public gallery as Mr Fitzpatrick recounted the incident to a silent courtroom.
Mr Duffy and Mr Shivers showed no emotion from the dock.
While Mr Fitzpatrick said he saw only one gunman, CCTV footage of the shooting played to the court yesterday on the opening day of the trial showed two masked attackers.
'No signs of life'
The court also heard on Tuesday from two other soldiers who were attacked in the ambush, Richard Marshall and Christopher Fairclough.
Mr Marshall said he crouched behind one of the pizza vehicles when the shooting started before making his way to main base gate.
He said he saw the two soldiers who were killed lying on the ground. Mark Quinsey, he said, was showing no signs of life while Patrick Azimkar was making noises which indicated he was badly hurt.
Mr Fairclough said he ran away from the cars when the gunfire started. He tripped but got back on his feet and made his way to the Massereene guard room.
Once there, he realised he had a cut to his face caused by a bullet.
The prosecution questioned one of the delivery drivers - a Polish man, whose evidence was heard through the words of an interpreter.
He described being shot in the hand and back and recalled someone, possibly a soldier, coming to his aid.
Three witnesses from Domino's pizza takeaway, which made two deliveries to the barracks on the night of the attack, were also called.
One, Jody Taylor, worked on the tills and made pizzas and is the ex-girlfriend of the other pizza delivery driver who was injured, Anthony Watson.
She described how she was in work when there was a missed call on her mobile phone from Anthony.
When she called the number back, she said a police officer answered and she realised that Anthony had been shot.
The trial is expected to last up to five weeks.