Tyre slashing attack 'probably anti-social behaviour'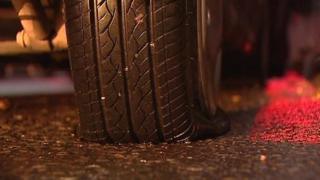 An attack in which the tyres on 48 cars were slashed in north Belfast was probably anti-social behaviour, a Sinn Fein councillor has said.
About 30 parked cars in Great George's Street, 10 in Henry Place and eight in Stanhope Street were targeted, leaving commuters stranded on Tuesday evening.
Some drivers thought the attacks were linked to local opposition to commuter parking.
But others suggested they were purely vandalism.
"There is still a fair degree of confusion about what happened," said Conor Maskey who represents the Oldpark area.
"It is more likely to be anti-social behaviour. There are no real residential properties in and around those streets."
Mr Maskey said police were following obvious lines of inquiry and were increasing the number of patrols to try and protect drivers.
Commuter Billy Downs was one of those who arrived back to his car on Tuesday afternoon to find two tyres slashed.
Counting cost
He said this effectively made his spare tyre useless and forced him to call a recovery vehicle which cost him £150 plus VAT.
He added that there had been nothing to stop him parking on the street but he would probably now rely on the bus instead.
"The powers that the police would have to eliminate something like this are slim," he said.
"It's a fact of life - part of the mad world we live in."