Unclaimed £250,000 lottery ticket bought in County Down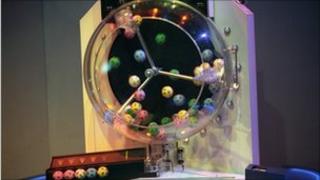 A lottery ticket bought in County Down is worth more than £250,000 - and the owner has not claimed it.
The lucky player bought the Lotto ticket on Saturday 22 October and won the 5+Bonus prize of £285,482.
The ticket holder has until 17:30 BST on Thursday 19 April 2012 to claim it or the money will go to good causes.
"We're desperate to find this mystery ticket-holder and unite them with their winnings," a National Lottery spokesperson said.
"This amazing prize could really make a huge difference to somebody's life. We're urging everyone to check their old tickets again or look anywhere a missing ticket could be hiding.
"Try checking in the pockets of clothing, in wallets, bags and down the back of the sofa - someone out there could literally be sitting on a fortune. We have the champagne on ice and our fingers crossed that the lucky winner comes forward to claim their win."
The winning Lotto numbers on 22 October were 20, 27, 28, 34, 43, 44 and the bonus ball was 01.
More than £26bn has been raised for good causes in the UK through lottery ticket sales since the National Lottery started in 1994.
These have included arts, sports, heritage, health, education and environmental projects.