Smithwick Tribunal: witness names Sean Hughes as ambush leader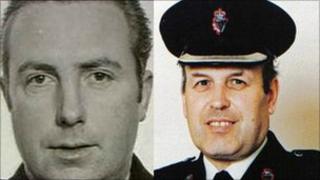 The Smithwick Tribunal has heard allegations that a south Armagh man was responsible for an ambush in which two senior RUC officers were murdered.
Harry Breen and Bob Buchanan were shot dead in south Armagh in March 1989.
A former RUC detective inspector claimed Sean Gerard Hughes was the leader of the Provisional IRA unit which carried out the attack
The witness said the unit responsible was very experienced, being responsible for almost 80 other murders.
He said these included Robin Hanna, his wife Maureen and six-year-old son David, who were murdered in a bomb attack at Killen, Newry, as they returned from a holiday in the US in 1988.
He also said Thomas 'Slab' Murphy was an IRA "patriarch" at the time, and "very much in charge of the whole show".
The tribunal in Dublin is looking into possible Garda (Irish police) collusion in the murder of the RUC officers.
Chief Supt Breen and Supt Buchanan were shot dead in an ambush shortly after leaving a meeting at Dundalk Garda station.