Wounded testifies at Massereene murders trial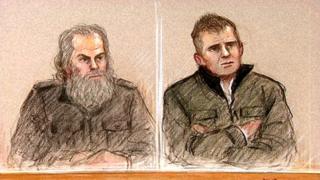 A soldier who survived the attack on Massereene Barracks in Antrim two years ago has been testifying at the trial of two men accused of the double murder.
Patrick Azimkar, 21, from north London and Mark Quinsey, 23, from Birmingham - were shot dead the night before they were due to be deployed to Afghanistan.
Colin Duffy, 43, from Lurgan, and Brian Shivers, 46, from Magherafelt, deny any role in the March 2009 murders.
Mark Fitzpatrick, a sapper in the Royal Engineers, said he took cover in a car.
The vehicle was the pizza delivery vehicle which had brought food to soldiers at the base in Antrim.
Sappers Azimkar and Quinsey were killed outside the gates as they collected the pizza delivery.
Their colleague and friend, Sapper Fitzpatrick, said a gunman in a balaclava spotted him in the car.
"When he seen me in the car, he opened fire on the car," said the soldier.
He said there was 10-15 seconds of constant automatic fire, and he was hit in the hand.
He was also wounded in the shoulder and lung but was able to run away. A bullet skimmed the side of his head, he said.
He also saw the gunman "finish off" his friend Patrick Azimkar, who was one of two soldiers killed, along with Mark Quinsey.
"Whoever it was wanted to cause damage and they finished him off before firing in at me," he said.
"There was no remorse. He knew what he was doing, he just seemed to do it all quick."
Earlier, the trial at Antrim Crown Court was told 63 bullets were fired during the attack.
As well as the murders, Mr Duffy and Mr Shivers also each face seven other charges - six of attempted murder and one of possession of guns and explosives.
On Monday, the trial was shown CCTV images of the attack.
The dissident republican group the Real IRA said it carried out the murders.
A number of other people were wounded during the attack, including a man delivering pizza to the soldiers.
The trial is expected to last up to five weeks.