Woman who threatened mum given suspended sentence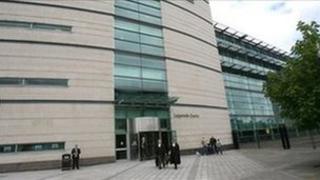 A Belfast woman who held a kitchen knife against her mother's face has been given a six-month suspended jail sentence.
Anne-Marie Mulholland also threatened and slapped the victim at her home in Belfast during a row over money.
She was told that she would have been imprisoned immediately if the charges had been contested.
District judge Fiona Bagnall said her early guilty plea and clear record had gone in her favour.
The 21-year-old, of Cliftonville Road in Belfast, pleaded guilty to threatening to kill Sarah Mulholland, being armed with a dangerous or offensive weapon, criminal damage and common assault.
Row
Belfast Magistrates' Court heard an argument broke out at the Springfield Road address on August 10.
A Public Prosecution Service representative said the victim claimed the defendant lifted a kitchen knife and pressed it against her face.
She alleged that Anne-Marie Mulholland smashed glasses against a cupboard before threatening to kill her by sticking the weapon in her.
The defendant also hit her mother on the side of the head with her hand and repeated the stabbing threat after police arrived, the court was told.
Defence solicitor Padraig O'Muirigh said his client's judgment was impaired at the time because she had taken 10 diazepam tablets.
"On the date in question they had a row in relation to money owed to her," he said.
"She accepts full responsibility for her actions and made full admissions."
Imposing a total sentence of six months imprisonment, suspended for three years, the judge warned: "If she is back in this court on any offence of this type she will be straight into custody."