Fed Ex to create 52 jobs at new Northern Ireland base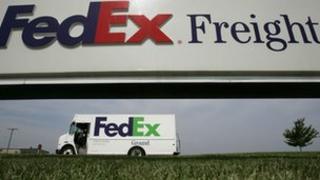 The US courier company Fed Ex is to set up a new base in Northern Ireland, creating 52 jobs.
The firm will operate a domestic and international delivery services using a daily flight from Belfast International Airport.
Fed Ex will be based in a 20,000 square feet facility at Kilroot Business Park in Carrickfergus.
Enterprise Minister Arlene Foster announced the investment at the international airport on Tuesday.
David Binks from Fed Ex said the new hub will help local businesses.
"There are a lot of businesses who are disappointed that they are not growing quicker and, therefore, are looking for new opportunities in perhaps non-traditional areas to take advantage of some of the rapid growth we have seen in places like China, India, South Africa, Turkey and other parts of the world," he said.
"By opening up our services now I think we are doing a great job to help service the Northern Ireland business community."
The enterprise minister said it was good to see a global company establish a Northern Ireland base.
"This investment by Fed Ex, will not only result in new jobs at a purpose-built facility in Carrickfergus, but it will also provide support for existing businesses across Northern Ireland by reducing the delivery time between here and customers overseas.
"The presence of an internationally renowned company such as Fed Ex will add to our inward investment proposition and increase Northern Ireland's attractiveness to potential investors."
Fed Ex is the world's largest courier company, employing almost 300,000 people globally and delivering to 220 countries and territories.