Jackson's silk pyjamas and bed fetch 8,900 euro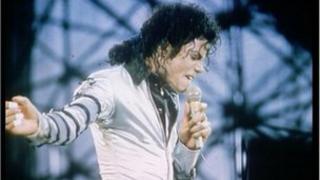 A set of silk pyjamas and a bed in which the late singer Michael Jackson once slept have been sold at an Irish auction for a total of 8,900 euros.
An American entertainment company bought the star's pyjamas for 2,700 euros.
Both the nightwear and the carved bed were used by Jackson when he stayed at Coolatore House near Moate, County Westmeath, five years ago.
He and his children were there for several months while he recorded at Grouse Lodge studios in 2006.
He was seen in the area with his young family at the time, visiting the cinema and at the bowling alley.
Auctioneer Damien Matthews of Matthews Auction Rooms said Michael Jackson said that he had never slept better in his life than he did at Coolatore.
He visited with his three children and their tutor, without security or entourage.
"When he was leaving, he left his hat and his pyjamas as a gift. He told the owners of the house that he had had a marvellous time and that Coolatore was the only place where they had ever felt like a real family," Mr Matthews said.
He said that following his time at Coolatore, the house's owners had become close friends of Michael Jackson and had travelled with him.
Mr Matthews said many of the items sold at the auction on Monday made two or three times the normal price because of the connection with the late star.
The mahogany bed will remain in Ireland as it was sold to an undisclosed Irish bidder for 6,200 euros. It would normally have made up to 800 euros.