Lloyds Banking Group reveals more Irish loan losses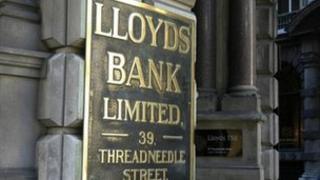 Lloyds Banking Group says that 67% of loans in its Irish business are now classed as impaired.
That means the loans are not being repaid in line with their original terms and conditions, and in many cases are unlikely to be repaid at all.
The bank said that in the first nine months of this year the level of impaired loans increased by a further £2.9bn.
Lloyds main business in Ireland was Bank of Scotland Ireland (BoSI).
It was a property-focused bank which ran up catastrophic losses in the Irish crash.
The bank was effectively closed last year and its loan book is being run down by a company called Certus.
Lloyds also closed its Halifax operation in the Republic of Ireland, but continues to operate in Northern Ireland.
The bank said the increased impairments in Ireland reflected further falls in the commercial real estate market during 2011 and warned that further vulnerability exists.