What the papers say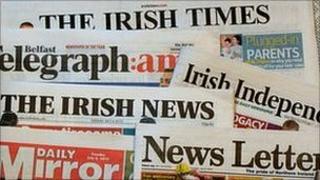 Journalist Mike Philpott takes a look at what is making the headlines in Thursday's newspapers.
There is a sense of history in the making on many of the front pages.
"Contagion", says a huge headline in the Independent, as the debt virus, as it calls it, starts to overwhelm Italy.
The Daily Telegraph says the country could be too big to rescue.
"Staring Into The Abyss" is how the Mail's headline sums it up.
It says there are increasing concerns that the euro is disintegrating.
The Guardian says the euro crisis is spinning out of control. Its columnist Timothy Garton Ash says that if the currency is saved, it will be done via a much tighter fiscal union, largely dictated by Germany.
The Irish Times reports on the news which broke overnight - that France and Germany are stepping up their campaign for a radical overhaul of the rulebook, as it puts it.
Setback
It says Europe's biggest players have renewed a drive to deepen economic integration. But it adds that if that happens, weaker countries could be forced to leave the single currency.
A local casualty of the financial downturn dominates the front of the Irish News. It says the Republic's decision to withdraw funding for the A5 upgrade will be a major setback for the construction industry here.
Other local papers lead with a tragic but sadly familiar story.
The sudden death of yet another young sportsman dominates the News Letter and the Belfast Telegraph. Stephen Lowry, who was 27, became ill on Tuesday evening after returning from football training.
The News Letter reports that an ambulance crew worked on him for an hour, but he could not be saved, and his family are now waiting for a post-mortem examination in the hope that it might provide some answers.
The Telegraph has a picture of him with his fiance Kathryn Gillen at last weekend's Snow Patrol concert in Belfast.
The poppy dispute surrounding the England football team makes quite a few headlines.
The news that players will be able to display the emblem on black arm bands, as opposed to having it embroidered on their shirts, provokes all shades of opinion.
"England one, FIFA nil", is how the Times sees it, after soccer's governing body stepped down.
The Mirror calls it a dramatic climb-down and puts it down to the anger of Prince William, who reportedly contacted FIFA to express his opinion.
The Sun agrees, saying he was livid. But the Independent accuses FIFA of responding to what it calls a populist yelp from Downing Street.
Back to financial matters and Matt's cartoon in the Daily Telegraph.
His drawing shows students protesting over fees. One is saying to another: "I plan to get my student debt up to a level that forces the IMF to bail me out".