Almac makes colon cancer test 'breakthrough'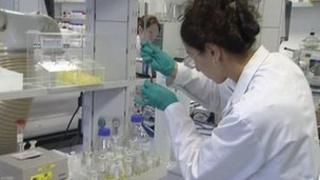 A Craigavon company has made what it claims is a major breakthrough in the treatment of colon cancer.
Scientists from Almac Pharmaceutical Development have developed a test to detect the likelihood of the cancer recurring in patients who have undergone surgery.
It allows doctors to identify high risk patients who may benefit from chemotherapy.
Almac said it could be available to patients within the next two years.
The president of the company's diagnostic business, Professor Paul Harkin, said it would help to save lives.
"This test allows clinicians to identify those patients with early stage colon cancer who are at high risk of recurrence following surgery," he said.
"These patients, and because of the fact that they're high risk, are likely to benefit from additional treatment such as adjunct chemotherapy and we know that adjunct chemotherapy probably saves about 30% of patients."
Almac said that, following further external validation, the test could be available to UK patients within two years, and potentially even sooner in the US.