EU farming subsidy fines 'could top £100m'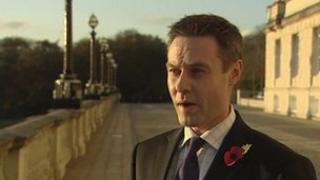 Taxpayers in Northern Ireland face paying a £100m bail-out to the Department of Agriculture.
Minister Michelle O'Neill is under pressure to make an urgent report to the assembly as to why her department could need a farm subsidy bailout of such magnitude.
The figure includes £64m in costs already incurred because of the issue.
The bill follows audits by the European Union into single payments to farmers dating back to 2005.
Mistakes in how the scheme was administered could prove costly.
The Stormont agriculture committee has called on Ms O'Neill to make an urgent report on the financial corrections.
Agriculture chair Paul Frew said: "When you look at it, at £100m, that cannot be laughed at. That is money that should be going into the economy and it is not.
"But we haven't paid any of that yet and we need to get to the bottom of when are we going to pay it, who we are going to pay and how much we are going to pay."
Ms O'Neill said she had intended to go the assembly to make a statement on the issue on 21 November.
"I think it is important that we put the whole issue of disallowance in context," she said.
Proactive approach
"There are many member states who have also faced disallowance and we're by no means the worst.
"Obviously the fact that we're facing fines, we need to address that and we've been very proactive in doing so.
"£82m has been set aside to date.
"None of that money has come out of any front-line service or any department budget.
"We were able to find the money through executive money which wasn't spent and would have gone back to the British Treasury, so at least we can say to date there has been no impact on front line services within DARD."
The agriculture minister said her department was working hard to correct the problem.
"Firstly we're challenging the decision in the courts, seeking legal clarity around Europe's interpretation and how they've imposed the fines upon us," she said.
"Secondly we're looking at a massive re-mapping system, 50,000 fields, hopefully it will mitigate against any future disallowance.
"We're also in regular contact with the European Commission to make sure they're aware of what it is that we're doing and correcting the things that they have identified so that's our approach and I think that will mitigate against future plans for disallowance."