Nipsa union members in 30 November strike action vote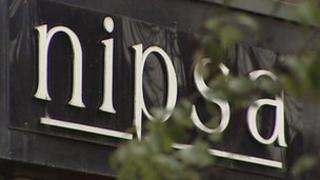 Members of one of the main public sector unions, the Northern Ireland Public Service Alliance (Nipsa), will go on strike on 30 November.
The union's general secretary Brian Campfield said the vote in favour of industrial action reflected anger over attacks on pensions, pay and jobs.
An attack on public servants was an attack on public services, he added.
The turn-out in the ballot was 43%. Just over two-thirds of those who voted were in favour of going on strike.
Mr Campfield said there remained an "alternative to the destructive course of action that the government has embarked upon".
He said that "instead of forcing additional contributions from the already frozen pay packets of public sector members" the government should reform tax relief "which involved £22bn of taxpayers' money per year going to subsidise the pensions of top earners".
"This would be a much fairer approach for the government to take."
Unions across the UK are due to go on strike on 30 November over what they claim are unfair changes to public sector pensions.
The government has said its plans are necessary to cut the cost of funding pensions at a time when life expectancy is increasing.