Police recover stolen GAA MacLarnon trophy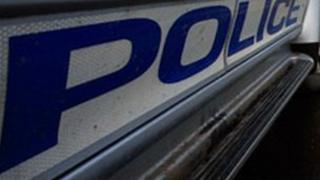 Two men have been charged with driving and assault offences after police recovered a stolen GAA schools trophy from a car stopped in Londonderry.
The MacLarnon Trophy was stolen in a creeper burglary in Orchardville Avenue in south Belfast on Sunday during which a car was also taken.
Later on Sunday afternoon, a car, believed to be the same one, was stopped at Baldrick Crescent in Derry.
The two men, aged 25 and 22, will appear in court on Tuesday.
The car had been involved in a road traffic collision at Craigavon Bridge at about 16:30 GMT and was later found in Baldrick Crescent.
Police said that it also struck a police vehicle at the junction of Eden Terrace and Northland Road during the incident.
Derry Commander Chief Superintendent Stephen Martin said: "It is extremely rewarding to be in the position to reunite a member of the public with their posessions.
"I am sure those involved in this year's MacLarnon Cup competition will be delighted to see it on display on St Patrick's Day."