Shocking story of care abuse victim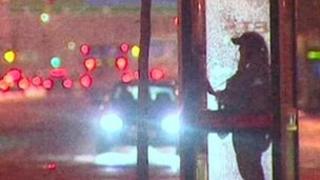 "I used to think 'they'll give me drinks and drugs. They'll get me out of the home for a couple of nights.... And if I get raped it'll be all right.'
"But really it wasn't. Because it just messed your head up so much."
Caoimhe is 18 now. She's been in care for half her life.
And while in children's homes, she was targeted by men who sexually abused her.
Like many vulnerable young people, she did not realise she was a victim for some time.
"I was so young when it happened, I didn't understand what was going on," she said.
"Then when you get older you realise. You talk to people and you open up."
"You have to talk about it, because you don't want it happening to other wee girls."
According to the Barnardo's report, Caoimhe's story is not unusual.
Two thirds of the girls in care in Northern Ireland who took part in the charity's study were found to be at risk of sexual exploitation - in other words, manipulated or forced into taking part in sexual activity.
'Organised network'
The abusers give their victims something they need or want in return.
That "something" could be alcohol or drugs. It could also be food, or somewhere to stay, or it could be money.
There is some evidence there's an organised network of abuse.
Professionals say they hear children talk about the same adults' names, suggesting the same people are targeting different care homes.
And the approaches can be very direct.
The BBC has spoken to a care worker, who said men have come to the home where she works to lure children away.
"Men have actually come up to the front door looking for our girls," she said.
"That's very scary for our girls, because they know that if men are prepared to come right up to the children's home, there's no getting away for them."
The care worker has told us some of the horrific stories they've heard from girls the day after they've disappeared from the home.
"We would get phone calls the next morning to say, 'I don't know where I am, I'm still wearing last night's clothes… I've taken drugs, I'm drunk'," she said.
"We've also had situations where the young girls have come back and said I was locked in a room and threatened and I wasn't allowed to leave until I had sex with seven men."
Caoimhe said after she was raped, she was often told not to tell anyone - or else she would be killed.
Hidden horror
"The thing about people like that is - when they tell you that, you believe them," she said.
The fear of coming forward which young people have is one reason why the horror is hidden.
But Barnardo's say this report has revealed the issue is a bigger problem in Northern Ireland than previously thought.
While children in care are at particular risk, the charity stress that many other young people are affected too.
Indeed, they've called the report "Not A World Away" - because they say the research shows this sort of child abuse could be happening in any neighbourhood.