Boy, 14, denies abusing 10 schoolboys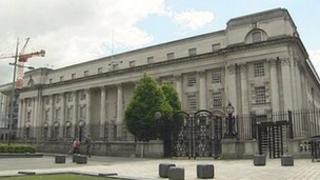 A 14-year-old boy allegedly carried out sexual assaults on up to 10 other schoolboys, the High Court has heard.
The boy, who can't be identified due to his age, is also accused of threatening to kill some of them, inflicting burns with a lighter and false imprisonment.
His alleged victims are aged between 10 and 15, with some claiming they were assaulted in a shed near his home.
He denies the charges. His application for bail was adjourned until a social worker can provide more information.
A prosecution barrister said the teenager has been charged with "a plethora of offences of both a violent and sexual nature".
'Burns on arms'
The accused was first taken into custody in Dungannon, County Tyrone in July on suspicion of assault occasioning actual bodily harm and possession of an offensive weapon.
Nicola Auret, prosecuting, said three young boys claimed at the time he had inflicted burns to their arms.
It was alleged that the accused later gestured to one of them by drawing a finger across his throat.
The court heard that seven boys subsequently made complaints about sexual-type offences.
Six of these were of alleged assaults, while another related to claims of engaging in sexual activity in the presence of a child.
Ms Auret said the allegations involved incidents of touching in a shed close to where the accused lives.
She disclosed that police later received complaints from another three boys of sexual assault, attempted sexual assault, incitement to sexual activity and threats to kill.
The barrister said one boy claimed he was threatened with a candle stick if he tried to leave.
Lord Chief Justice Sir Declan Morgan said the issue was whether the accused needed to go into a secure form of welfare.
The judge questioned the effectiveness of current supervisory efforts and whether he can be managed at home.
Adjourning the bail application, he asked: "Why should I feel confident that I can take the risk that other children will not be harmed.
"It is imperative that we find out what is the appropriate way forward."