Kennedy Kane McArthur: Flame still burns for Marathon messenger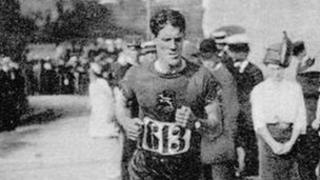 The citizens of Kennedy Kane McArthur's home village of Dervock in County Antrim greeted him with a torchlight procession when he returned following his gold medal win at the Olympic marathon in Stockholm in 1912.
So it is only fitting that it has now been included on the London 2012 Olympic torch relay route through Northern Ireland as the centenary of that victory is due to be celebrated.
McArthur's life story reads like that of a comic book hero such as Alf Tupper.
He is believed to have feasted on chips for breakfast and enjoyed smoking a pipe after his triumphs.
The former postman caught the running bug as he delivered letters to dozens of houses as a young man in County Antrim.
But it was only when he emigrated to South Africa, the country he represented in the games, that he started taking athletics seriously as Ballymoney museum manager Keith Beattie explained.
"Kennedy Kane McArthur went over to South Africa as a young man, but there are plenty of accounts of him running during his post round and delivering the letters as fast as he could," he said.
"He would be racing against the narrow gauge railway engine as it went by, he was unconventional compared to modern athletes that's for sure.
"He would have had quite a substantial diet, he was a bulky individual but he had this ability to run long distances.
"He ran six marathons in his career from 1908 to 1912 and he won them all which is a phenomenal record.
Freak accident
"There is talk that at the Durban Marathon in 1910 where he finished 15 to 20 minutes ahead of his nearest rival he was seen leaving the stadium smoking a big pipe of South African tobacco."
Mr Beattie described the background to McArthur's success in Sweden and the feat of endurance involved in claiming the Olympic gold medal in Stockholm.
One athlete died in the sweltering temperatures and McArthur is believed to have been spurred on by a cry from home in the closing stages.
"It was a difficult race for everyone involved and you expect a Scandanavian country to be colder, but one of the athletes collapsed of heat exhaustion and died," he added
"In those days there would have been refreshment stops, but they would have had a cup of tea or a glass of champagne rather than the energy drinks today.
"As McArthur ran towards the finishing line someone threw a garland around his neck which nearly knocked him to the ground.
"He was so tired and was struggling to reach the line, but the legend has it that someone shouted from the crowd 'Come on Antrim come on ye boy ye' and he found the last bit of strength to finish.
"The crowd carried him in their arms afterwards."
McArthur was forced to end his athletics career a year after his Olympic victory when he injured himself in a freak accident while on patrol as a police officer.
However his achievements will be on display when Ballymoney Museum brings his medals and trophies back to Northern Ireland from South Africa for an exhibition in 2012.
Kelly Holmes
"McArthur stadium in Potchefstroom where he settled is named after him and Dame Kelly Holmes trained there in the run-up to her gold medals at the Olympics," Keith Beattie said.
"When he died in 1960, his widow presented his medals and trophies to the museum in Potchefstroom and they have agreed to let us borrow them next year.
"The Olympic gold medal is missing, no-one is quite sure where it is, but we will be displaying his Olympic blazer and the running number from his shirt.
"We have been talking to his relatives and they have a book that was presented to him in 1912 when he returned to Ballymoney and they want to come here next year to bring that across."
Dervock is planning to hold a centenary marathon in McArthur's memory next year with Stockholm following suit.
Mr Beattie said the flames and trains which helped spark this marathon messenger's passion for running would also be recalled in his home village.
"The exhibition we are planning will run from April to September and we have been generously supported by the Heritage Lottery Fund," he added.
"They are also helping us with another project which will be a play about McArthur's life which will coincide with the centenary.
"When he arrived back here by train after winning the Olympic gold there was a large crowd waiting for him at Ballymoney station and our plan is to reenact that at the station.
"He was put into a carriage and the people of the town unharnessed the horses and pulled him themselves to the town hall for a reception.
"When he arrived at Dervock there was a crowd of people waiting and a torchlight procession and we hope to reenact that as well."