No cover-up over abuse claims at Forster Green and Lissue - Poots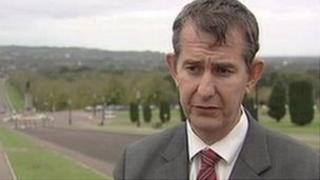 The health minister has told the assembly that there was no cover-up into allegations of abuse at two hospitals.
Edwin Poots also said he was "extremely annoyed that he was not given an interim briefing on the allegations at Lissue House and Forster Green.
He said both hospitals would be included in the remit of the Historical Abuse Inquiry.
Mr Poots said his department would co-operate with the inquiry.
Following complaints about historic abuse from patients at Lissue House and Forster Green Hospital in the 1980s and early 1990s, a review was carried out by independent consultant Bob Stinson.
It was completed in 2009 but never published. Its contents were only revealed last month after a leaked copy was given to the Irish News.
Mr Poots said the complaints detailed in the report concerned allegations of physical, emotional and sexual abuse.
Harsh regime
"The review of case files from Lissue Hospital dating back two to three decades and the conclusion of Mr Stinson's review confirmed that the care of children in that period did not provide full and appropriate protection of children from harm," he said.
"The review indicated that the regime was harsh and that a small number of staff may have committed acts of abuse.
"Unfortunately Lissue House is not alone.
"We know from survivors of childhood abuse and from the other historic inquiries that this was a problem in a range of institutions."
The health minister said the report also indicated that there was not "a systematic pattern of either physical or sexual abuse in these hospitals".
"The report indicates abuse may have been carried out by a small number of staff," he said.
"While we can not rule out collusion between these individuals, I want to reaffirm that this was not abuse on an extensive scale and is not in the same league as previous cases reported."
Mr Poots said that when the Lissue issue came to the attention of officials, work was already under way to assess the possible scale of abuse in hospitals for those with mental health problems and learning disabilities.
After a review of Muckamore Abbey Hospital in 2005-6, the Department of Health initiated a file review of a sample of patient records in each hospital, known as "retrospective sampling".
The results of these reviews, including those of Forster Green and Lissue, were handed over to the PSNI in July this year.
"I understand that officials had envisaged reporting to me when firmer conclusions had been reached - possibly within the next few weeks," Mr Poots said.
"But I was extremely annoyed that I was not given an interim briefing before the story broke last month."
Humiliation
The Stinson review said three allegations were made against members of staff over claims that girls aged between eight and 13 were abused at Lissue and Forster Green.
It said that two of the allegations of abuse were referred to police but a third was not because it was made some years after the alleged incident took place and, in the view of the report's author, was not corroborated.
The report also detailed concerns about children being asked to undress in front of staff.
In 14 cases, children were alleged to have sexually abused other children while staff also allegedly used humiliation to discipline children.
The 11 such cases of humiliation in the report were described by Mr Stinson's review as "one of the most disturbing elements".