Department predicts low growth for local economy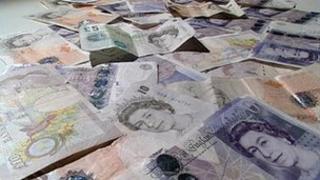 Economic prospects in Northern Ireland "remain muted" according to the Department of Enterprise, Trade and Investment (DETI).
The comments are contained in the department's latest economic commentary.
It warns that already low growth forecasts could be revised downwards.
The department said that independent forecasters expect the Northern Ireland economy to grow at a rate of around 1% this year and by around 2% in 2012
However it adds that reduced growth predictions for the global economy and ongoing difficulties in the Eurozone could mean lower growth in NI.
Weak
The report also said that DETI expected further rises in unemployment.
"The local economy will also feel the impact of national economic shocks, such as the high rate of inflation across the UK, and public-sector budget cuts will continue to impact on demand," it stated.
It also finds the economic difficulties experienced by the Republic of Ireland have affected NI.
"The RoI is a key destination of manufacturing exports from local firms, with sales totalling nearly £1.5bn in 2009/10 - however, this figure has decreased by £99m (6%) over the year," the report said.
"Forecasts suggest that economic growth, and domestic demand, in the Republic of Ireland will be weak this year and thus the potential for exports growth to this market looks muted for the short term."