Barra McGrory QC becomes new director of PPS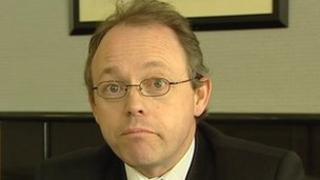 Barra McGrory QC has been appointed the new director of public prosecutions for Northern Ireland, replacing Sir Alastair Fraser.
Mr McGrory is the son of one of Northern Ireland's best known criminal lawyers - the late PJ McGrory.
Called to the bar in 2009, Barra McGrory was the first solicitor in Northern Ireland to become a QC.
In recent years, Mr McGrory worked on a series of high profile cases including the Bloody Sunday Inquiry.
"It is very important in the public interest that all prosecutorial decisions are (as) transparent as possible within the obvious sensitivities and restrictions which the cases themselves would place" he said, following his appointment.
The 51-year-old also worked on the tribunal which investigated the death of Portadown man Robert Hamill.
However, he is best known as a criminal lawyer and worked in his father's Belfast law firm.
His father, Paddy McGrory, represented the families of three IRA members shot dead in Gibraltar by undercover soldiers in 1988.
Married with two children, Mr McGrory studied Ancient History and Celtic Studies at Queen's University before going on to study law.