Tom McFeely ordered off Priory Hall site by High Court judge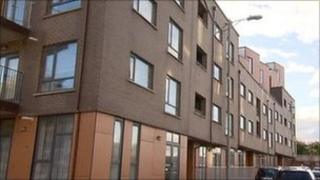 A developer behind a Dublin apartment block deemed a fire hazard, has been ordered off the site
The ruling was made after Dublin City Council told the High Court that work by Thomas McFeely to make the outer walls of the building fire safe was not progressing.
More than 240 residents of the Priory Hall apartments in Dublin were moved out of their homes in October.
There is now no agreement on who should carry out the work.
Mr Justice Nicholas Kearns heard evidence about work being carried out to fix the most severe problem at Priory Hall.
Cavities in the outer walls need to be filled in properly to prevent the risk of a fire from spreading quickly through the blocks.
Dublin City Council told the court that work had not progressed last week.
Lawyers for Mr McFeely said work had been done on internal hallways in 40 apartments, but they were waiting for agreement with the council about how to fix the external walls.
After hearing evidence about possible solutions, the court ruled that Mr McFeely was in breach of the order directing him to carry out the work within five weeks.
The council had said it wanted Mr McFeely off the site.
There is now no agreement about who should carry out the work.
The council identified three possible contractors who could complete the work, but the judge said it was not his role to appoint a contractor.
There is also no agreement about who will pay for the work that needs to be carried out.
Mr McFeely has said he does not have the funds to pay an independent contractor to finish the work.
The council said it does not have the funds and it is not required under law to fund the work, as its only responsibility under the legislation is fire safety.
It said it would have to apply to the Department of the Environment for funding.
Mr Justice Kearns described the situation as one of extreme urgency and said he hoped the council would come up with a proposal as soon as possible.
The High Court in Dublin heard at an earlier hearing that safety regulation breaches were so serious, a fire could spread through the whole building in minutes.
The residents are staying in hotel rooms while the work is being carried out.
Tom McFeely was in the Provisional IRA and spent 53 days on hunger strike in the Maze prison in 1980.
He went on to become a multi-millionaire property developer and director of Coalport Developments.