Alasdair McDonnell targets 20 assembly seats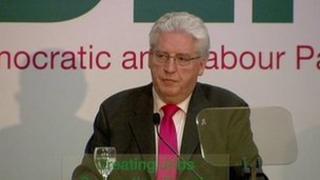 The new leader of the SDLP has set a target of 20 seats for the party at the next assembly election.
Alasdair McDonnell beat three other candidates at the SDLP conference to succeed Margaret Ritchie.
Speaking on Radio Ulster on Monday, he pledged to change the electoral fortunes of the party after a period of decline in its support.
He also rejected criticism of his acceptance speech which was held up by technical problems.
But addressing the electoral fortunes of the party will be his priority.
"I am going to get more seats," said Dr McDonnell.
"I felt that at the last election, had we done our homework a bit sooner, we might have got up to 18 or 20 seats. We are now in a situation where we are down to 14 seats.
"I intend reversing that and at the next assembly election, provided things like constituencies don't change, which is a likelihood, I would, in terms of today's set-up, want to see 20 seats."
Dr McDonnell's speech to delegates at the conference has come in for criticism after he faltered several times and complained about a light shining in his eyes.
While he admitted that he was "very uncomfortable" and felt like a "rabbit in the headlights", he said it was only a disruption and not a concern for his leadership.
He said the SDLP has suffered at the polls in recent years because it had been too focused on implementing the peace agreement.
"What has gone wrong is that we have put far too much of our energy into supporting the settlement, we have been supporting the implementation of the Good Friday Agreement," he said.
"That has been our focus, we have almost been hypnotised by it and we have neglected our grass roots. I want to go back to taking care of the grass roots."