Margaret Ritchie gives last speech as SDLP leader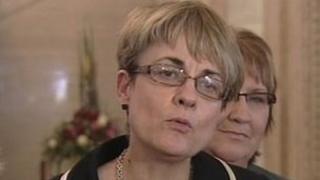 Margaret Ritchie has hit out at Sinn Fein and the DUP in her final speech as SDLP leader.
She said that Peter Robinson was well-off and therefore "well insulated" from the problems facing ordinary people.
She accused Martin McGuinness of being preoccupied with wanting "to live in a palace in Dublin" to the point that he did not care anymore.
Four candidates, Alasdair McDonnell, Alex Attwood, Conall McDevitt and Patsy McGlone are bidding for the leadership.
During her speech, Ms Ritchie praised Mr Attwood for standing up to the coalition government in Westminster over social welfare cuts.
She said that those who criticised her decision to appoint him had been proven wrong.
The winner of the leadership race is due to be announced on Saturday evening.