Alasdair McDonnell elected new SDLP leader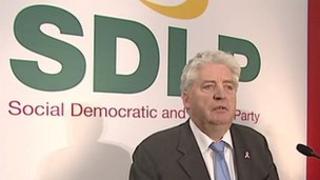 Alasdair McDonnell has been elected the new leader of the SDLP.
The South Belfast MP and MLA succeeds Margaret Ritchie who said in September that she was stepping down.
South Belfast MLA Conall McDevitt came second, Mid Ulster MLA Patsy McGlone third and environment minister Alex Attwood fourth.
The SDLP was the largest nationalist party in Northern Ireland for more than two decades but has been eclipsed by Sinn Fein in recent years.
In his acceptance speech, Mr McDonnell told delegates that he felt emotional at his success which was "the proudest moment of my political life".
He said he had been "brutally honest in spelling out how to make the party electable again" and that his focus would be to give united leadership.
"Our efforts must be primaily about putting more SDLP votes into ballot boxes and I will give you all I've got in return to ensure that's achieved," he said.
Mr McDonnell added that the other candidates had fought strong campaigns, and that the contest had been "cathartic" and good for the party.
Upper Bann MLA Dolores Kelly was elected the party deputy leader.
First Minister Peter Robinson was among the first to congratulate Mr McDonnell, tweeting that he was looking forward to working with him.
Sinn Fein president Gerry Adams said he wished Mr McDonnell well.
"I hope the new leader will display a positive, constructive and forward looking attitude," he added.