SDLP leadership candidates give their final pitches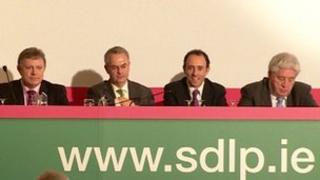 The SDLP leadership candidates have given their final formal pitches for votes as delegates decide who should succeed Margaret Ritchie as leader.
The four shared a platform at the party's annual conference on Friday night after polling began.
South Belfast MP Alasdair McDonnell and South Belfast MLA Conall McDevitt are running for the position.
They join current Environment Minister Alex Attwood and mid-Ulster MLA Patsy McGlone.
Most of the eligible delegates have now voted. It is thought half did so even before the final hustings began.
During the opening speeches, Alasdair McDonnell won the stongest audience reaction.
He promised to win back votes and joked the other candidates were borrowing his ideas for reorganising the party.
Mr McDonnell narrowly lost the last time to Margaret Ritchie.
This time there is a four-way race.
The party's deputy leader, Patsy McGlone spoke in Irish and recalled the SDLP's proud past and its look towards a brighter future.
This was a theme also explored by Conall McDevitt.
Alex Attwood argued passionately that he had the authority to lead after years of tough negotiation.
Delegates are predicting a tight race. The result is expected at the party's conference about 17:00 GMT on Saturday.