SDLP members begin voting for Margaret Ritchie successor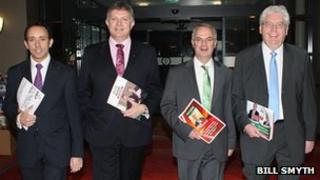 SDLP members have begun voting for a new leader.
Four MLAs are competing to succeed Margaret Ritchie.
South Belfast MP Alasdair McDonnell, South Belfast MLA Conall McDevitt, current Environment Minister Alex Attwood and mid-Ulster MLA Patsy McGlone are running for the position.
There are 350 delegates eligible to vote. The result is expected at the party's conference about 17:00 GMT on Saturday.
Party leader Margaret Ritchie announced in September that she would be stepping down claiming she did not feel it was possible to be an MP, an MLA and lead a political party.
She had been under considerable pressure since the party's poor election results.