Fans gather at Belfast locations to see MTV awards stars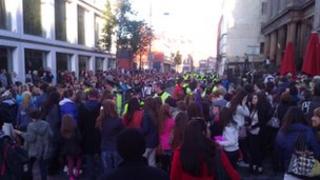 The build up to Sunday's MTV awards in Belfast continues with fans gathered outside the Odyssey arena from the early hours of Saturday morning.
Inside the venue, builders, set designers and staff to the stars are putting the final touches in place.
Crowds of music fans also continue to spend the day at hotels and shops in the city in the hope of catching sight of stars arriving.
Many also spent hours on Friday at the airport.
BBC reporter Natasha Sayee said: "Relentless star-spotters camped at Belfast City Airport.
"Many were there from half past four in the morning.
"They waited and waited but were disappointed when Selena Gomez and Jessie J chose to leave through the back."
One fan said: "We would have loved Jessie J to have come out and say hello to all the Belfast crowd because we've really looked forward to it.
"It is so brilliant for Belfast to have all these people coming here and we would like her to see how friendly we are."
20,000 music fans are expected in Belfast for the awards this weekend which will attract a host of major stars.
Justin Bieber, Lady Gaga and Coldplay are among the artists set to perform at the awards ceremony.
Snow Patrol and Jason Derulo are set to take the stage at Belfast City Hall while Red Hot Chili Peppers will play the Ulster Hall.
Snow Patrol's lead singer, Gary Lightbody, said he was excited to be performing in his home city.
"I will probably lose my mind at some point," he said.
"It will be really emotional- it already is. Walking around Belfast at the moment - it doesn't know itself."
Meanwhile, MTV has unveiled the contents of the goodie bags which will be given out at the awards.
Each of the presenters, nominees, and performers will receive numerous gifts including a Xbox 360 console, SpongeBob SquarePants t-shirts, jewellery, amplifiers and speakers.